the safest design in its most elegant form
Proudly display your favorite instruments with complete confidence on finely handcrafted stands created from beautiful natural hardwoods.
Let us build one (or several) for you!
🇺🇸 Made in the USA! 🇺🇸
Refined Elegance

Premium hardwoods to compliment your finest instruments.

Hand picked solid woods, graceful lines, fine furniture finish.

Safest Design

Secure and stable for your peace of mind. A firm but gentle hold, solid 3-point stance, finish-safe genuine leather.

Practical & Portable

Folding design with no assembly required! Easy to fold, unfold, store, and transport. Carry bag included.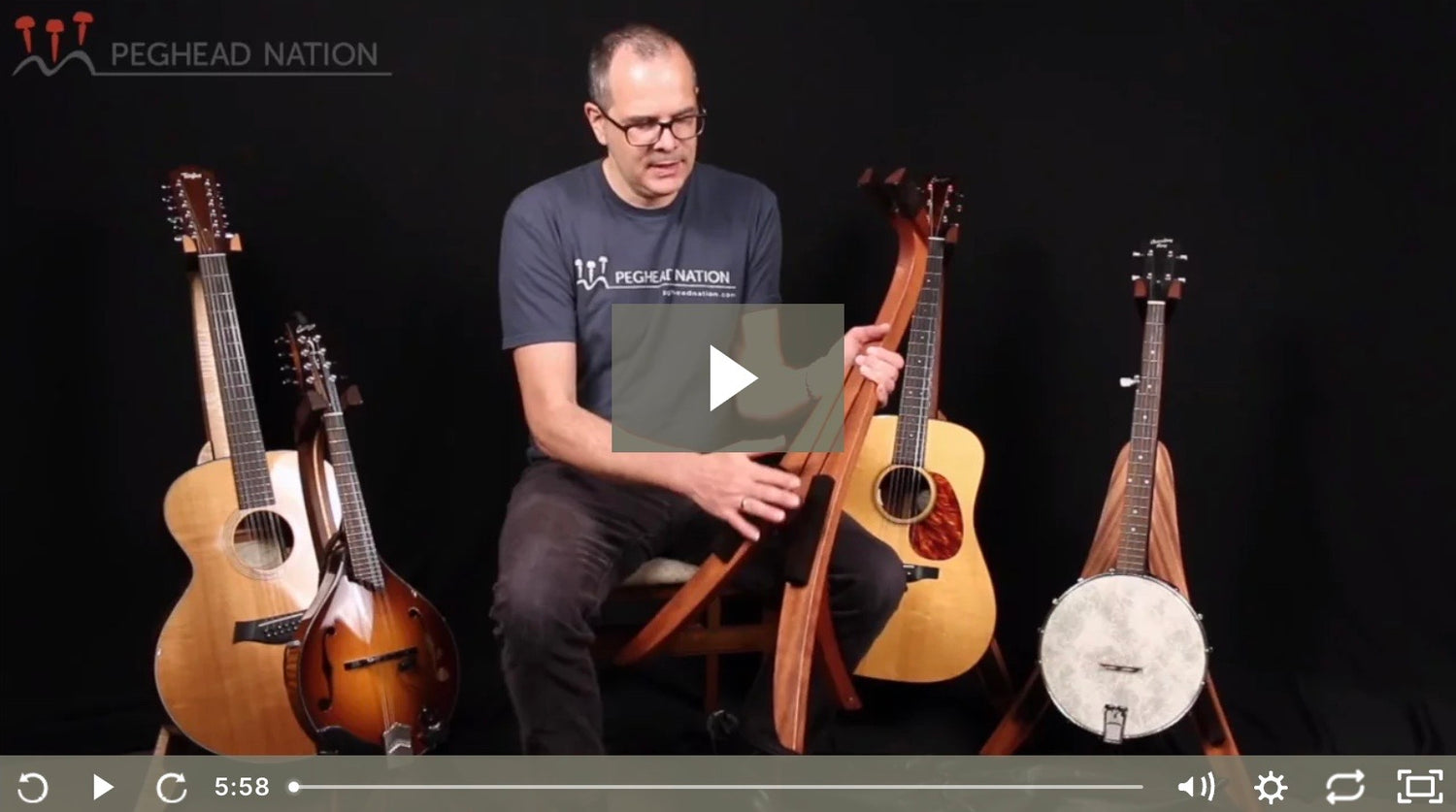 Peghead Nation Review
Peghead Nation did a wonderful reveiw of Solid Ground Stands. They are the home of roots music instruction, gear, and news for players of guitar, mandolin, banjo, dobro, fiddle, bass, and ukulele.
Put yours on Solid Ground too!
Professionals, students, aficionados, and collectors all agree that Solid Ground Stands are the safest and most beautiful way to display their valuable instruments.
"..such a unique and thoughtful design."
Rich in Illinois
"They are simply the best in the business."
Jim in North Carolina
"I could not be more pleased. It is beyond beautiful."
Ted in Florida
"...the craftsmanship and details are really stellar!"
Craig in Georgia
"...the perfect blend of fashion and function"
Dave in Florida
Here's a quick video of how to fold and unfold a Solid Ground Stand.
The SGS Story

Solid Ground Stands is a family business that creates finely handcrafted instrument stands. Find out why we do what we do.

Customer Gallery

This gallery exhibits a plethora of photos from just some of our satisfied customers proudly displaying their prized instruments on Solid Ground Stands.

Custom Stands

Looking for a unique one-of-a-kind stand? Here are some fine examples of some of the custom stands we have had the privilege to create.
Solid Ground Stands LLC
8270 East 41st Street - Tulsa, OK - 74145 - 918.688.6790 - info@sgstands.com